By Tom TJ Jones, Chief Everything at thetomjonesshow.com
This career advice is totally unsolicited, but I'll try to help Antonio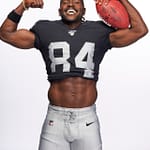 Brown who was just released from the Oakland Raiders without playing a single regular season game after being acquired in the off season.
Mr. Brown, considering your public behavior over the last couple years in the NFL, here are some jobs you might consider.
Photo credits given to Tony Avelar with the NFL.
Mr. Brown, as a long time career coach, I see things.  And as Jason Whitlock on Fox Sports said on Friday, he sees things too.  Which is  why he said it doesn't appear you really want to play football anymore. 
So I have some jobs and  career change advice that you might want to consider because you already have experience in these areas.  We always try to match clients with their previous experiences and "passion", rather than starting over as a rookie.  Remember that feeling?
Social Media Manager for an anger management counseling company.
A National Speaker with the theme of "How Not to Talk To Your Boss".
Or you could speak on "How To Properly Apologize And Take Responsibility For Your Actions.
Male Modeling since you've been doing that for years.  You might want to get a new agent as well.
A solo sports commentator for high school football games.
Write a book on "How To Ruin Your Reputation In 1,000 Easy Steps".
Become a testimonial spokesperson for a Cryotherapy Machine manufacturer.
Start a company exploring the opportunities in the "Plastic Helmet" industry.  Wait, someone's already doing that so you can remove this idea.
Become a Career Coach to help people find ways to get fired so they can stay relevant.
So there you go Antonio, just some ideas to consider while waiting on another NFL team to hire you.  And I'm sure some team would love to have you so don't give up yet.  
If you need to discuss these or other options, I'd be happy to coach you.  But I won't tolerate yelling, not making your appointments or threatening to hurt me or using any racial comments.  And I get paid upfront.
Good luck to you Antonio.  I'm here if you want to talk. Email me first.
By Tom TJ Jones, Chief Everything at thetomjonesshow.com